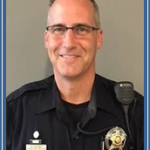 Lieutenant
Patrol Division of the Albany Police Department
Lieutenant Robert Hayes is currently assigned to the Patrol Division of the Albany Police Department. The Albany Police Department hired Robert in 1999. Robert's passion is traffic enforcement, and in particular the detection of impaired drivers. Prior to working for the Albany Police Department, Robert served for four years with the Florence Police Department (Florence, Oregon) and four years as a Reserve Deputy for the Marion County Sheriff's Office (Salem, Oregon).
Robert attended the fifth Drug Recognition Expert School that was held in the State of Oregon in 1998. He is currently a Drug Recognition Expert, Drug Recognition Expert Instructor, Intoxilyzer 8000 Instructor, DITEP Instructor, and a SFST Instructor. He is also a part-time Department of Public Safety Standards and Training (DPSST) instructor as well as a Crash Re-Constructionist for his agency. In addition, Robert has been a Drug Recognition Expert Region II and III Allied Coordinator since July of 2009.
In 1999 Robert received his Associates of Arts from Lane Community College. He is also the President for the Linn County DUII Victim Impact Panel and Chair for the DUII Multi-Disciplinary Task Force. During his career Robert has been recognized with the following awards:
2001 Drug Recognition Expert of the Year for a Municipality in the State of Oregon.
2005 Impaired Driving Trainer of the Year in the State of Oregon.
2005 City of Albany Police Officer of the Year.
2006 Security Alarm Corporation (SAC) Public Service Award.
2008 Award of Appreciation by Mothers Against Drunk Drivers.
2013 Ken Snook DRE Award of Excellence.
2015 City of Albany Police Officer of the Year.